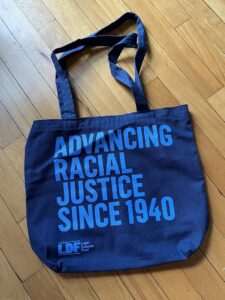 We have a wide selection of cotton bags on our website, from flat totes to grocery bags and much more. Cotton is a great option for material for those wanting a more natural material alternative. Although we love the tan color of natural cotton, there's something so fun about the colored cotton bags we have on our site too! Let's talk about why we love them!
Color expresses more of your personality and brand identity. Colored cotton is a fun way to show off what makes your organization unique! Create bags with different colors or do a more monochrome design! The options are endless!
Printing options. A lot of our colored cotton bag options have full bleed printing options which is great for creating beautiful designs on your bag! Like this Colored Cotton USA Made Flat Tote. Plus we love that this colored cotton tote bag is made right here in the USA!
Lots of color options. When we say colored cotton, this means a wide variety of colored cotton options are available! Take the flat tote bag that we mentioned above, this bag has almost 30 color options to choose from! There's sure to be something that fits your brand's identity and vision for your project.
They have the versatility of natural cotton but with a fun flair. We see cotton tote bags everywhere! Cotton is versatile material and is classic but trendy. Using colored cotton for your project brings out a fun flair on a classic bag and design.
You'll stand out from the crowd. Bright colors are an easy way to create unique designs that will catch your audience's eye and convey your message with ease! You can create a long-lasting impression with the right custom bag, and colored cotton may be just the right material for you!
These are only a few of the many reasons we love custom colored cotton bags. They have so much to offer and create a lot of opportunity for beautiful and fun designs, no matter your project's end goal! Shop all cotton bags here on our website, and of course reach out to our team with any questions you might have!