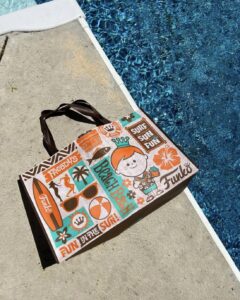 You've seen those laminated full color custom reusable bags with colorful graphics all over the bag. They're vibrant and eye-catching, and the messaging leaps off the bags. Oh, and recipients LOVE them, and love reusing them over and over–showing off your brand ever time! Did you know we can help you create custom bags with all over printing just like these?
Imagine your messaging in full color—and full bleed—wrapping all around the bag! And the best part? You spec the bag from top to bottom, and leave the rest to us! This is your vision on a fully customized shopping bag.
Timing is Everything!
Our full color laminated bags have longer lead times than most of the other products we sell. Standard lead times are typically 60-90 days from the time we receive your order to the time the bags deliver. From November through March, lead times may be extended by about 4 weeks due to factory closures, and production backlogs, during the Chinese New Year.
Lead times can be reduced by about 30 days by air shipping your order. This is more costly, and can add +/- $1 per bag in rush shipping charges. Planning ahead will save you a lot of money!
If you don't have enough time, please contact us and we can explore other bag options.
How many bags do you need?
The minimum order requirement for our fully custom bags is 3000 pieces. All 3000 bags must be the same size and have the exact same artwork to meet minimums. There are price breaks at 3000, 5000, 10000, 25000, 50000 and 100000 pcs.
Do you have a budget for 3000 bags (or more) and enough time before any events? Great! Let's look at all the ways you can customize your bags…
Artwork/Logo
The artwork for your bag is most important, since your artwork IS the bag. With all over printing, you provide artwork for the front/back panels, side gussets and bag bottom. All of the colors of the bag (including the background color) will be built into your art file.
Graphics can bleed right up to the seams since the material is printed before it is cut & sewn. The bottom of the bag can also be printed with your artwork making it a perfect place to print bar codes or QR codes.
We strongly recommend having a professional graphic designer create the artwork for your bag. These bags are all about the colors and graphics, so you want it to be done right.
Click here for detailed information on artwork requirements for our fully customized reusable bags.
Lamination Finishes
The bag finish refers to the amount of sheen on the outside of your bag. You can choose either 'matte' or 'gloss'. Both feel the same (slick to the touch) and are easy to wipe clean. Gloss has a shiny finish, and matte has a flat finish.
We generally recommend matte finish unless you are trying to reproduce the look of a glossy photograph.
Base Material Options
You will also choose your base material for the bags. The difference in the base material can be seen when looking at the inside of the bag (the outside of the bag looks essentially the same, regardless of the base material). We recommend samples and fabric swatches, and they're free! Contact us to learn more. There are four options:
Option 1: Laminated Nonwoven Polypropylene:
Least expensive (and most popular) option
Slightly porous but can be wiped down to clean
Optional inside lamination available for a more finished look inside and out (inquire about pricing)
Recyclable at the end of its life
Not made from recycled content (Laminated Nonwoven Polypropylene made from recycled content is generally poor quality and not recommended for reusable bags)
120g-130g is our standard weight, but heavier weight materials are available for an additional charge
Option 2: Laminated Woven Polypropylene:
Extremely durable
More stiff than other material options
Non-porous for easy cleaning
Optional inside lamination available for a more finished look inside and out (inquire about pricing)
Recyclable at the end of its life
Not made from recycled content (Laminated Woven Polypropylene made from recycled content is not recommended for reusable bags due to quality)
145g is our standard weight but heavier weight materials are available for an additional charge (but typically not needed for this material since 145g is quite strong)
Option 3: Laminated Recycled PET
Softer material with slightly 'fuzzy' texture
Optional inside lamination available for a more finished look inside and out (inquire about pricing)
Made from 85% post consumer recycled plastic (water bottles and other recycled plastics)
Recyclable at the end of its life
145g is our standard weight but heavier weight materials are available for an additional charge
Option 4: Laminated Woven Polypropylene with foil and foam insulation
Insulated cooler bags keep drinks and snacks chilled while on the go
Wipes clean on inside and out
This material is not recycled or recyclable
145g laminated woven polypropylene with foil and foam insulation is our standard material
Bag Size
You specify the width, length, and depth of the bag. We have several suggested sizes listed on our website, but you are not limited to this size. Some common sizes are:
Gift Bag: 9"w x 12"h x 4.5"d
Grocery Bag: 13"w x 15"h x 8"d
Tote Bag: 16"w x 14"h x 6"d
Bag Style
Choose between round corners (like the popular Lululemon style bags!) or square corners, as shown below. Note that plate charges for round corners are slightly more expensive. Other bag styles are available as well. Contact us to help you get started.
Handle Material Options
Option 1: Polyweb This is our most popular handle material. Polyweb handles have a slightly softer feel and are more comfortable to hold. They have a higher perceived value and are extremely durable. We generally recommend polyweb handles, unless you need a very specific handle color to match a color in your art. Standard handles are 1" wide, but wider widths are available for an additional charge.
Option 2: Self-Material This is a great option if you need a very specific color for your handles, because the handles are printed from the same laminated material as your bag.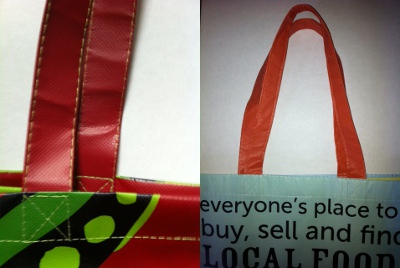 Option 3: Nonwoven Polypropylene Some customers prefer nonwoven polypropylene handles (not laminated). Available in a wide range of colors, these handles have a softer feel than the self-material handles, but are available in more color options than polyweb handles.
Handle Length Options
You can specify the handle length based on how you are planning to use the bags. Handles are measured from seam to seam as shown below.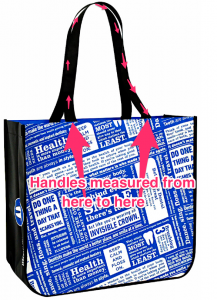 Some common handle lengths are:
Smaller Bags: 18"
Standard Handles: 20"
Shoulder Length Handles: 24"-26"
Piping Options
The piping is a thin piece of material that holds the bag panels together. Piping is generally made from either 'self material' (same laminated material as the bag) or non-laminated nonwoven polypropylene. You will typically reference a color in your art to match the piping to.
Carton Markings
A one-color imprint can be printed on the outside of the cardboard shipping boxes, making them easier to identify when in storage. A typical example of a carton marking is:
ABC Company
Tote Bags
100 Units
Other Bag Customizations
In addition to the above options, we offer an extensive range of add-ons for an additional charge, including:
Bottom inserts
Custom labeling
Information tag
Snaps, Velcro, or other custom closure
Interior/exterior pockets
Metallic printing/metallic lamination/fluorescent inks
And more!
Product Safety
Like all of our other bags, if your fully custom bags are shipping to California, they're subject to Proposition 65, otherwise known as the Safe Drinking Water and Toxic Enforcement Act of 1986. Proposition 65 (Prop. 65) requires consumer product warnings for products shipped to California that contain chemicals known to the state of California to include carcinogens or reproductive toxins. To comply with Prop. 65 regulatory requirements, we must apply warning labels to these products prior to shipment. We offer Prop. 65 testing on your order for an additional charge.
The Consumer Product Safety Improvement Act (CPSIA) ensures the safety of all consumer products and places special emphasis on children's products. CPSIA has taken standard testing (like lead) one step further by identifying four age grades, and requiring certain testing on products to be deemed safe for each group. If you plan to distribute your custom bags primarily to children under 13, your order will be subjected to CPSIA mandated testing for use by children in your recipient's age range. There is a charge for this testing.
Please contact us with any questions about product safety. This is our top priority.
Because the process for creating these bags is so complex, it's important to choose a provider who is experienced in producing this type of bag (we've been doing it for a long time!). Ready to learn more? Let's get started!