At Bulletin Bag, we offer several imprint options for your messaging. Printing in full bleed on custom bags is one of those methods, but it can be tricky to understand what this style of printing is, and how it can be used.
Full bleed on custom bags is achieved when the imprint design covers the entire side of the bag—from top to bottom, seam to seam—on one side, two sides, or all sides. Full bleed can be printed in one color, multiple colors, or full color (depending on the bag and print capabilities).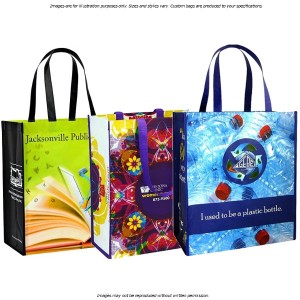 The alternative to printing in full bleed on custom bags is printing within a standard imprint area. This is how the majority of our bags are printed, because our stock bags are already sewn and ready to print—and why we can offer these bags with very fast turnaround. However, since the screen printing equipment has to fit inside the bag, your design is constrained to this set area.
We also offer full bleed on custom bags that are cut and sewn to order, including many of our USA-made bags and all of our fully custom bags. As such, the lead time is longer because the bag itself needs to be cut and sewn.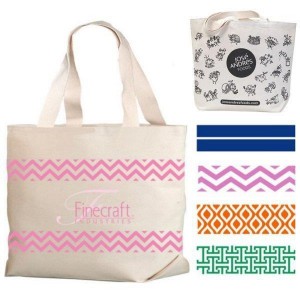 Choosing full bleed on custom bags does not necessarily mean that your imprint needs to have more than one color. In fact, we offer several bags that can be printed in full bleed, but not in full color on that bleed–because they're bags that are made in the USA! Just like with any other printing method, the more colors you add to your design, the more expensive the finished product will be. It's easy to make a big impact with full bleed using just one color. It's all about the design!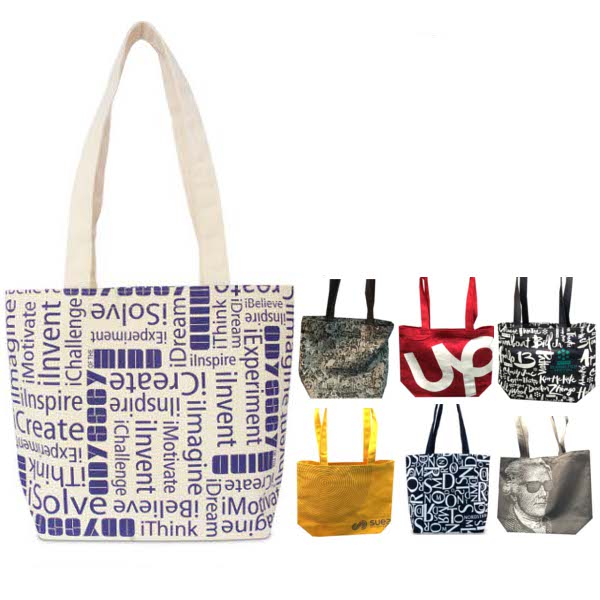 For a unique spin on your branding, we also offer two bags that offer full bleed imprint on the inner lining. These bags are also made in the USA, so they can be fully customized. Understated and classy, these bags are highly customizable and offer more discrete branding since the design is visible on the inside of the bag only.