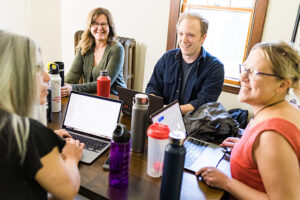 Shopping with small businesses has become a popular and important movement in recent years. More and more people are looking to support small businesses rather than large corporations. There are a lot of different reasons why someone may want to spend their dollars with a small business, and here are 5 of ours! As a small business ourselves, this topic is close to our heart!
Supports Local Communities. When you shop with a small business, you're supporting your friends, neighbors, and community members. Small business owners are regular, hard-working people who are pursuing their passions and shopping with them means supporting their livelihood and the high-quality good and services they offer to the community.
Strengthens Economies. When there's demand for a small business' goods or services in your area, that business will then dedicate resources to grow there. This means additional stimulation in the local economy through taxes paid, services offered, and opportunities opened.
Creates More Jobs and Opportunities. As small businesses grow, this means new jobs and opportunities offered to local candidates. It's a win-win! Small businesses care about the community they operate in because it's their own community!
Fosters Connection. We all know that connection means more today than ever before. And shopping with a small business fosters connection much more than shopping with a big corporation. You get to work directly with a real human being who genuinely cares about your order and is grateful for your business. They're a great resource for you to ask questions, better understand their services, and support their goals.
Better Customer Service. We all know how great it is when a business owner or employee knows you by name. They are friendly and engaging because when you shop with them, you're supporting their dreams. When you call, there's a real human who picks up the phone. Someone is behind the scenes packaging your order, answering the phone, replying to your email, and so much more. No scary 1-800 numbers that turn into hour-long annoyances while on hold.
These are just a few of the many, many reasons why shopping with a small business is worth it. As a small business ourselves, we can speak to all these reasons, and we know how crucial small business are to our local economy and culture. We vote with our dollar with every purchase we make. What kind of world are you voting for with your purchases?