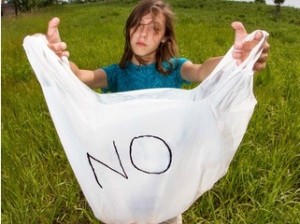 Have you heard of Activist Abby? If not, take note. Abby Goldberg is an amazing activist (and she's just 13 years old). She learned about how plastic bags have caused damage to our environment. Instead of leaving school and never thinking about it again, she started a two-year-long school project (to be completed by 8th grade graduation) to make a video convincing her hometown to ban plastic shopping bags.
Seven months into her efforts to encourage reusable shopping bags in her town, she discovered that the oil and chemical industries were ahead of the game. They joined forces with lobbyists and politicians to draft a bill to make it illegal for towns across Illinois to create plastic bag bans.  The bill was thinly veiled as a green environmental bill with requirements for low-volume plastic bag recycling and positioned it as a model bill for all states. It passed in a late-night session without fanfare or press, which made her realize all of her work could be for nothing.
FMI on Abby and her efforts, visit www.facebook.com/activistabby. Or just google her. She is everywhere, from CNN to the Chicago Tribune!