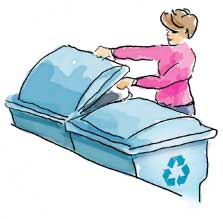 Bob Cappadona manages the fifth-largest recycling facility in the United States: Casella Waste's materials recovery facility in Charlestown, Massachusetts. That's where more than 30 area municipalities bring their curbside recycling for processing.
Cappadonna says the biggest issue he has to deal at his facility is what he calls "plastic bag contamination. Single-use plastic grocery bags can clog the automatic sorting machines used to make recycling financially feasible. The bags are such a problem that sometimes Cappadonna has to shut down his 700-ton a day process so employees wielding knives can climb in to the huge machines to cut errant bags out—a delay that can take hours.
Most supermarkets and chain stores have collection bins for plastic bags. They encourage customers to bring their unwanted plastic bags to those bins. The stores sell the old bags to plastics brokers, who accumulate enough to make polyethylene feedstock, which is then sold to manufacturers. For example, TREX of Virginia uses the re-extruded plastic, and mixes it with sawdust to make decking. TREX buys about half of the returned bags in the United States — approximately 1.5 billion bags a year.
Despite the fact that plastic shopping bags have recycling arrows printed on them, it does not necessarily mean they can be recycled curbside. Plastic bags can't be recycled into new bags, either. They can only be put into another product that can never be recycled. But you can extend the lives of plastic bags by reusing them . Of course, the best thing to do is buy reusable grocery totes and shopping bags—thereby eliminating the need to recycle your plastic bags in the first place!